Once again the bodybuilding world came together for the 2012 Olympia competition. The best of the best in bodybuilding, figure, fitness, and bikini joined together in Las Vegas to see who the best in the world today are.
In 2011, we saw Adela Garcia retain her crowd as the Queen of Fitness. Nicole Wilkins regained her throne on top of the Figure world. Iris Kyle showed the world why she is the female version of Ronnie Coleman. And Nicole Nagrani made her mom proud as she took home the Bikini title.
In the 202 Showdown (this year it's the 212) Kevin English defeated Flex Lewis in a controversial finish. And of course, in the men's bodybuilding, "The Gift" Phil Heath won his first ever Mr. Olympia title by defeating his mentor and best friend, the 4-time Mr. Olympia Jay Cutler.
2012
2012 is a new year for bodybuilding and the Phil Heath era is in full swing. Victor Martinez and Jay Cutler are both not competing this year, each for their own personal reasons. Branch Warren seems to be on the downside of his career. And the only remaining former Mr. Olympia in the lineup, Dexter Jackson, is no longer considered a top threat. It's all up to Phil Heath now. This is the year for him to welcome in the new generation of challengers in Dennis Wolf, Kai Greene, and Evan Centopani.
In the 212 Showdown, can Flex Lewis finally become the 212 champion as Kevin English is out the competition this year or will someone else establish dominance over the 212 Division?
Will Erin Stern be able to take back the Figure title from Nicole Wilkins?
Is Iris Kyle still untouchable?
Can Adela Garcia make it a lucky 7 in a row?
This weekend, we found out all of this and more!
How it all went down
We begin with the Bikini Division. Many say that the Bikini Division should not be a part of the Olympia. But no one can keep their eyes off the stage when these women are on. And this weekend all those eyes saw Nathalia Melo take home her first Bikini Olympia, edging out other favorites reigning champion Nicole Nagrani and India Paulino. Here's how the top 6 went down.
1.) Nathalia Melo
2.) Nicole Nagrani
3.) India Paulino
4.) Dianna Dahlgren
5.) Jaime Baird
6.) Sonia Gonzalez
In the Fitness Division, many speculated that Adela Garcia would come out victorious again. Despite turning 40 since last years Olympia, Garcia came in as the favorite to win and did not disappoint as she took her the Fitness Olympia for the 7th time, as Oksana Grishina was unable to grab the top spot yet again. Tanji Johnson was disappointed as she took home 5th place.
1.) Adela Garcia
2.) Oksana Grishina
3.) Tina Durkin
4.) Myriam Capes
5.) Tanji Johnson
6.) Bethany Cisternino


For the last 3 years in the Figure Division we have watched as Nicole Wilkinsand Erin Stern have went back and forth in the Olympia. Who is the best in the world between these two women? Going into this year it was arguably a tie. Many would say it is not who is better overall, but who will look better this one time. And this year the back and forth continued as Erin Stern regained her Olympia title with Nicole Wilkins grabbing second place.
1.) Erin Stern
2.) Nicole Wilkins
3.) Candice Keene
4.) Heather Dees
5.) Mallory Haldeman
6.) Teresa Anthony
Iris Kyle. In women's bodybuilding, did anyone else really stand a chance? Even with great efforts put forth by Yaxeni Oriquen-Garcia and Debi Laszewski, Kyle is just the best there is and with her 8th Olympia title there is no debate about it.
1.) Iris Kyle
2.) Debi Laszewski
3.) Yaxeni Oriquen-Garcia
4.) Alina Popa
5.) Brigita Brezovac
6.) Sheila Bleck
In the 212 Showdown, this was a big year. Not only did the division jump up from a maximum of 202 pounds, but also many were hoping we would see a changing of the guard. Kevin English is dominant in the lightweight contest, but many feel he is past his prime and it is Flex Lewis' time to be the man to represent the division. With English out of the contest this year, the changing of the guard came. And this weekend, Flex Lewis won the 212 Olympia Showdown Champion by just narrowly defeating the returning David Henry.
1.) Flex Lewis
2.) David Henry
3.) Eduardo Correa
4.) Jose Raymond
5.) Al Auguste
6.) Tricky Jackson
Scott, Oliva, Schwarzenegger, Columbu,Zane, Dickerson, Bannout, Haney, Yates, Coleman, Cutler, Jackson, and Heath. Those 13 men are the only men in history to have taken home the Mr. Olympia Title.
Heath came into 2012 looking to fend off the likes of Kai Greene, Evan Centopani, Branch Warren, Dennis Wolf, and any other contenders who would challenge Heath. With his true competition coming from a streamlined version of Kai Greene, Phil Heath maintained his dominance and took home his second Mr. Olympia title. Shawn Rhoden skyrocketed to new heights with his 3rd place finish. Former Mr. Olympia Dexter Jackson returned to form with a 4th place finish. Branch Warren grabbed 5th place. Dennis Wolf was a class-act as he took 6th place when many believed he deserved a higher placing.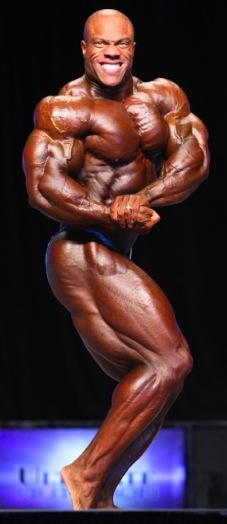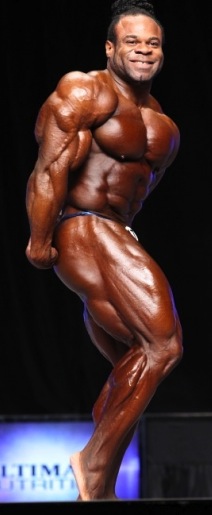 1.) Phil Heath
2.) Kai Greene
3.) Shawn Rhoden
4.) Dexter Jackson
5.) Branch Warren
6.) Dennis Wolf
7.) Toney Freeman
8.) Evan Centopani
9.) Johnnie Jackson
10.) Lionel Beyeke
Photo Credit: FLEX Online and Bodybuilding.com