It is now the end of September and most college students in the United States are entering midterm season. It might not be the F-word (finals) but the M-word is not exactly pleasant to the ears either for the college students in this nation. Stress, anxiety, and exhaustion are three things that often come with the midterm season.
Many students will panic about how much material there is to master and how little time they have. Oh, and let us not forget about those unfortunate few who ended up with multiple midterms on the same day. There's just nothing like committing to memory everything you have heard or read in the last 6 weeks for an 80-minute test. And then of course there are those who do not have to memorize everything, but instead have to write long papers that essentially must be perfect in every way.
Yeah, I guess stress, anxiety, and exhaustion are coming up for everyone who has to do midterms soon. But don't fear, we have a few basic tips for you to help you do well on midterms and continue sailing high through finals. (Ugh, there's that F-word again)
Get Organized
It sure makes studying easier when you know where everything is and all of your notes are clear and easy to read. It might not help you actually get any studying done, but taking the time to organize all of your notes and material will help in the long run. When you are studying, you will have everything in order and where you need it to be in order to study efficiently. Not knowing where your notes are or what the readings were about certainly will not help reduce your stress or anxiety.
Office Hours
Make sure to go to office hours. Whether it is your professor, grader, student teacher, GSI, or TA, make sure to at least speak to the person grading your paper my response. If anything about the course material is not clear to you, this is the person who can help you understand. Also, in most courses few students actually come to office hours. Thus, students who do take this initiative and come often get rewarded. Sometimes the teacher or student grader will reward you with small bits of information about what to expect on the test. Other times they will take notice of this initiative and make decisions in your favor when it comes to grading your test. For instance, the student who showed the professor that he was serious about doing well is likely in some circumstances to get a bit more benefit of the doubt on partial credit or not totally accurate answers.
Study Groups
The truth is, this one is hit or miss. Sometimes you get it right and end up with a productive group where you actually have discussions that help you understand the material. But most of us have experienced the opposite. We have all went to a study group where it was clear few people were prepared and you were lucky to end the session having learned anything. It might take some trial and error, but it helps to find dependable peers who you can rely on to work together to make sure you are prepared for the test.
Study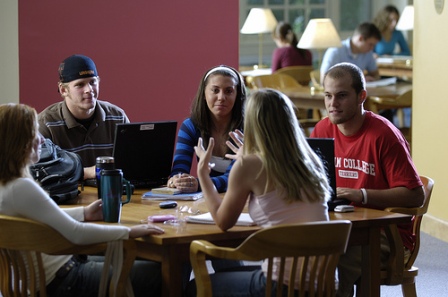 Most importantly, study. The hardest part about preparing for a midterm is the first time to study for it. When you first crack open those notes, you realize how little information you remember. Often this leaves students feeling depressed and hopeless. But as you keep working you commit more information to memory and become more prepared for the test. So at the very least, go over your notes once a few days before the exam.
If you can cram for a test and do well and perform to do so, go for it. But most people do not prefer this. The easiest method to be ready for a test is to review a little everyday for about 4-7 days before the test, given the class. Studies show it takes reviewing material 7 times to truly remember it all. Why go over everything 7 times in one night, when you can do it once or twice a day for 4-7 days?
Find the right study habits that help you and use them. We all have our preferences and do better under different circumstances. Find what works for you and tackle your midterms head on this year.