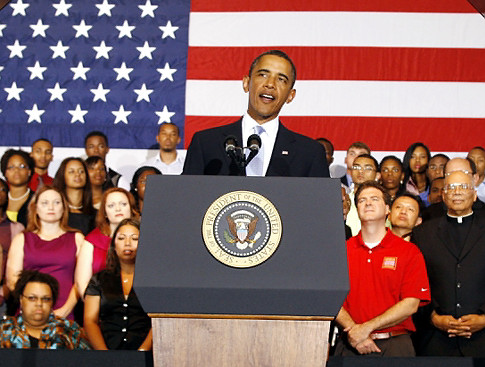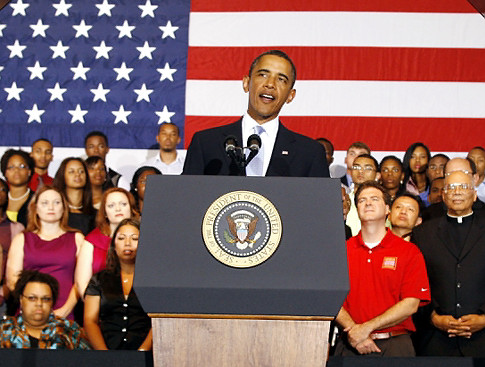 San Francisco (Obama.net)- The city of New Orleans, Louisiana can be called many things. Some can call the city unlucky as it has had to deal with a pair of catastrophes in less than fives years. That can lead some to call the city hopeless, as just when things were finally starting to look up after Hurricane Katrina damages were really being taken care of, the BP Oil Spill occurred and set the region back even more. But the best way to describe the city of New Orleans is resilient. After being hit by both a hurricane and an oil spill within half of a decade, the region is doing everything but giving up.
President Barack Obama acknowledged all of this on Sunday when he came to the city five years after Hurricane Katrina came ashore and devastated the city. Approximately eighty percent of the city was underwater leaving most of the population homeless and without shelter. As about 1,800 people lost their lives, the rest were moved to nearby cities and took refuge in the Superdome, the home of the Super Bowl Champions New Orleans Saints.
Obama spoke at Xavier University, which was damaged during the hurricane, but was back up and running within 4 months of the event.
Obama spoke of his commitment to New Orleans, saying that in the aftermath of Katrina, we still must work hard to rebuild the city and not abandon it in times of need. Obama did say, "There are some wounds that do not heal. There are some losses that cannot be repaid. And for many who lived through those harrowing days five years ago, there is a scaring memory that time will not erase."
Obama has been to the region multiple times in the previous months to oversee the recovery efforts for the BP Oil Spill.
Obama has also allotted 1.8 billion dollars to help schools in New Orleans rebuild.
With Obama's work, the unemployment rate in New Orleans got as low as 7.4% before the oil spill, which sent it back up to 8.2%, still 1.4% less than the national average.
Obama made it clear that the relief efforts for both Hurricane Katrina and the Oil Spill are not over and will continue until the recovery is fulfilled.
Obama told the people of New Orleans, "We're still here and we're just going to keep on building. We're going to keep on working."