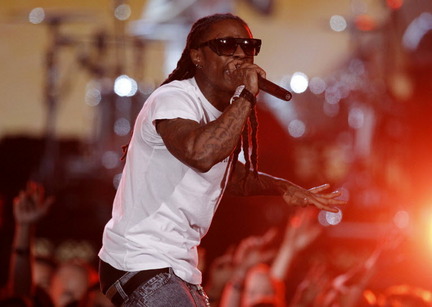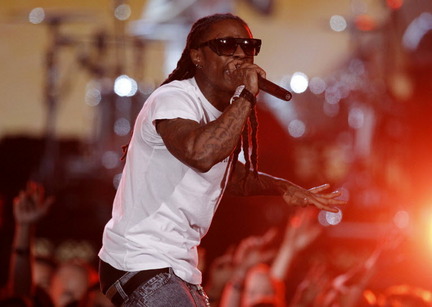 After being released from prison last month, Lil Wayne has been slowly getting back into the flow of his normal life. Born Dwayne Michael Carter, Jr., the rapper spent eight months in Rikers Island in New York on gun charges.
In his first days out of jail, Wayne spent a few days with his children and the rest of his family and friends. He then went to Las Vegas to join fellow Young Money artist Drake onstage for a rendition of "Miss Me" from Drake's Thank Me Later album. Wayne was also served with a paternity lawsuit from a woman claiming that her grandchild was the Grammy Award winners' fifth child.
But recently Wayne has done something that didn't involve music, his family, or more time spent in a courtroom fending off charges and accusations from both the government and people seeking money.
The artist affectionately known as Weezy just delivered a wheelchair to the mother of Ronda Austin, one of the numerous fans to write Wayne during his incarceration.
Wayne explained on his website exactly why he chose to provide Ms. Austin with the wheelchair.
Ronda Austin also explained the situation on the rapper's website. Austin said, "The first time I wrote Lil Wayne, I just let him know that I support him and I'm gonna keep writing him until he comes out. Just giving him a lot of encouragement," and "letting him know that God is with him," and for Wayne "to keep his head up and stay encouraged. I talked a lot about my family, myself, and especially my mom and dad."
Ronda went on to say that one day while she was driving, Wayne called her and asked if she and her father had gotten her mother a wheelchair. When Ronda said no, Weezy said, "Well, if you didn't get it, don't worry about it. I'm going to take care of it."
Shortly, a Quantum 6000 arrived at the doorstep of the Austin household. Now Evelyn Austin, the mother of Ronda Austin, has the ability to go around her neighborhood and be among her friends outside of her home, which she has not been able to do for years.
Ronda said, while trying to contain her emotions, that it was a good feeling for her to see her mother "actually up and about" and that with her new wheelchair and the ability to get around, she sees "such a difference in her, she has this get up and go in her now."
While many expect Wayne to just sit in the studio and work on Tha Carter IV, the rapper will not hesitate to help those in need.