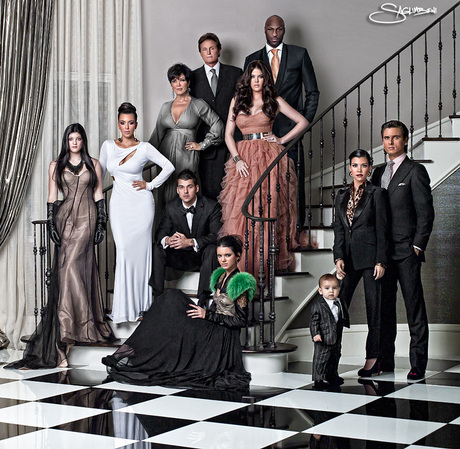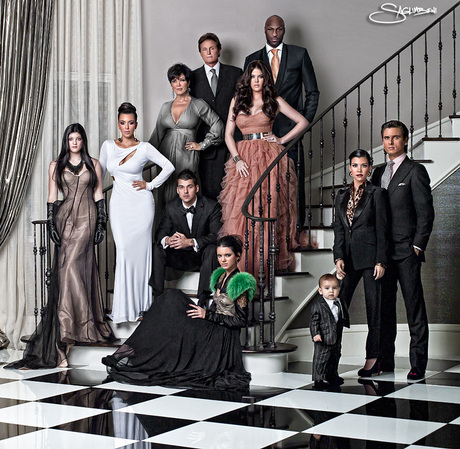 Los Angeles, CA (Obama.net) – The Kardashians, one of America's favorite families, has recently revealed their 2010 Christmas card. In the photo each member of the family is wearing either a black suit or gray or white dress. The portrait, which also includes NBA superstar Lamar Odom, shows the family standing on steps inside a house with a black and white checkered floor design. The Kardashians are lined up on the stairs with two members sitting on the bottom steps.
Fans have been eagerly awaiting this year's Christmas card photo as the Kardashians have been known to go "all out" with their Christmas cards. As Khloe Kardashian mentions on her blog, "Christmas cards have always been a REALLY big deal in my family. For as long as I can remember, my mom has made it a point to go all out, whether it was a ninja turtles themed card, or bringing a Santa into the mix, each year she always managed to top the year before." This year is certainly no different from the rest as the iconic Hollywood family has certainly tried to top themselves yet again.
While Khloe Kardashian might thoroughly enjoy this year's picture, some fans of the Kardashians are giving mixed reviews. Some people are saying the photo creeps them out because of the seriousness it portrays along with all of the dark colors. This year's photo is certainly different from the traditional Christmas card picture with a holiday tree, decorations and Santa Claus, but it gives fans the chance to see the family in a different setting than they normally would. The family was certainly going after a glamorous look and I think that most people out there will agree that they achieved their goal.
Why all the hype over the Kardashian's Christmas Card? Comment below.