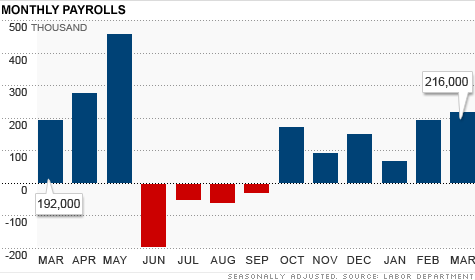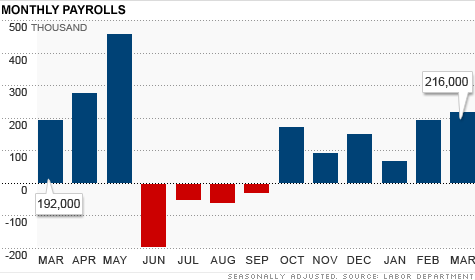 For the sixth straight month, there was a reported growth in the job market in the United States of America. For the first time since May of 2010 and the third time in the last twelve months, more than 200,000 jobs were created in just a one-month span.
When the Labor Department released their tallies for the month of March, the federal government and the Obama administration were more than pleased. In March, a total of approximately 216,000 new jobs were created in America.
Experts predicted that March would see a total of 180,000 new jobs created. That projection would have meant that 14,000 fewer jobs were created in March than in February. However, 22,000 more jobs ended up being taken by Americans, thus ending the struggle to find work for over one-fifth of a million Americans.
In turn, the unemployment levels fell throughout the nation.
The unemployment rate now sits at 8.8%. This is the lowest the unemployment rate has been in exactly two years since March of 2009. Since November, the unemployment rate has fallen a total of one whole percent. The decline is the fastest seen since 1984.
In addition, according to surveys, the amount of Americans who have stopped actively looking for new employment has fallen. Also, the number of people who could not find full time jobs, so they settled for part time jobs, is also falling.
The rate of job growth is a positive sign to Americans. For the first time in a long time, there has been consistent growth in the job market and consistent decline in the unemployment rate.
The trouble with the economy lately has been mainly a result of the crisis in the Middle East and North Africa. The effect on the American oil market is high and is hurting the nation.
In terms of private business growth, the American economy is on a straight ride to recovery in the next few years.
Some may complain about job loss still being a fact in America. That is true. Not every last industry in the nation is doing well, so there will inevitably be job loss. However, it is evident that the amount of job growth is far greater than job loss.
This trend is expected to continue for a long time coming. While a true time frame cannot be declared, it is more than likely that in the next few years the job market will fully recover and the economy will as well.