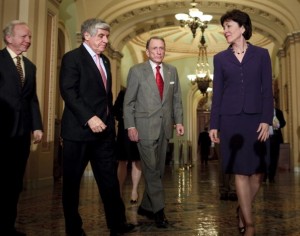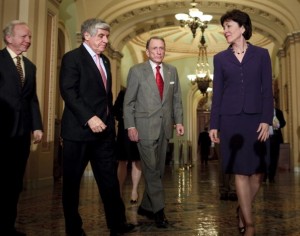 San Francisco (Obama.net)- Ever since the days of the Vietnam War, the citizens of the United States of America have seemed to have a beef with the United States military policy. From the reasons for going to war in the first place to how we conduct ourselves on the battlefield, American's have had many issues to be upset with. Another issue of debate regarding the policy of American military is the banning of openly homosexual individuals from entering the armed forces.
Tuesday, the United States Senate saw the Republicans filibuster the vote to take back the policy of "don't ask, don't tell."
To pass a bill in the United States Senate, you need sixty votes, but the vote on Tuesday was left at 56-43, leaving the repeal less than a handful of votes short. Even Democrat Harry Lead of Nevada voted no, but he did so strategically as to give him the right to raise the matter once again in the future after the Midterm Elections.
Robert Gibbs, the Press Secretary of the White House expressed the dismay over the bill not passing, but made it clear that the Obama administration will "keep trying" to get the policy overturned.
The policy, which bans gay and lesbian troops from being in the military was ruled unconstitutional by a federal judge not too long ago.
Some are suggesting that instead of appealing, the Justice Department should just hold up the ruling of the judge and allow the policy to be overturned.
With 59 Democrats in the United States Senate, they needed at minimum for one Republican to take their side and show some bipartisan support in order to get the bill passed, but not one member of the party stepped up.
Maine's Senator, Susan Collins has openly said she opposes the policy. She has said that while she wants it to be repealed, she "cannot vote to proceed to this bill under a situation that is going to shut down debate and preclude Republican amendments," and that "now is not the time to play politics simple because an election is looming in a few weeks."
Even pop superstar Lady Gaga has openly called for the repeal of the policy and called on Republicans such as Collins to step up and vote for the repeal.
As for now, the policy remains in tact until after the elections on November 2nd, when it will be possible to bring up the issue once again and have an open debate on it to better suit bipartisan needs.