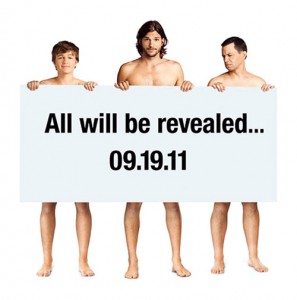 It is currently official that Ashton Kutcher will be joining CBS's sitcom, Two and a Half Men. He was hired after Charlie Sheen was fired because of strange interviews and rumors of drug use. On Friday night, the funeral of Charlie Sheen's character, Charlie Harper was taped and Ashton will be joining the production of the ninth season of the Emmy award nominated show where he will be making $800,000 – 900,000 dollars per episode.
The plot of the ninth season begins with Charlie Sheen's Malibu bachelor pad being bought by a broken hearted internet billionaire geek named Walter Schmidt who will be played by Ashton Kutcher.[readnext]
Ashton quotes; "I can't wait to get to work with this ridiculously talented 2.5 team and I believe we can fill the stage with laughter that will echo in viewers' homes," adding, "I can't replace Charlie Sheen but I'm going to work my ass off to entertain the hell out of people!"
Be sure to tune in on September 19th to catch the season premier of Two and Half Men. Word in the tabloids is that Sheen himself will host a season premier party at his home with his goddesses to watch the death of his character Charlie Harper. Gotta love Charlie Sheen.