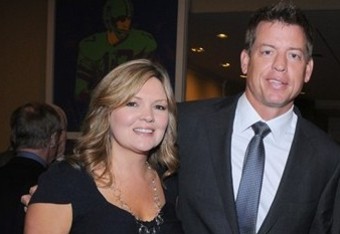 Many know Troy Aikman as one of the NFL's greatest Quarterbacks of all-time. The man who was elected to the Pro Bowl six times was the number one draft pick in the 1989 draft. The Dallas Cowboys, for whom he would play all twelve years of his career, selected him. Aikman brought Dallas three Super Bowl titles and is a member of both the Pro Football Hall of Fame and the College Football Hall of Fame.
As of late he has been a football analyst for Fox.
The UCLA alum has been romantically linked to country music singer Lorrie Morgan and actress Sandra Bullock.
However, the woman who won over the Super Bowl XXVII MVP's heart was Rhonda Worthey.
The two married in April of 2000 in Texas. Worthey already had a daughter from her first marriage, but added two more with Aikman. Their first daughter, Jordan Ashley Aikman, was born in August of 2001. Their second daughter Alexa Marie Aikman was born in July of 2002.
However, unfortunate news struck the family this week as Aikman and Worthey announced that they will be getting divorced.
Aikman said of the divorce, "This has been a difficult decision for Rhonda and me, but after ten years of marriage, we have decided to separate. We remain deeply committed to our children."
The statement also asked that the public "honor our family's privacy during this period of adjustment."
Reports are indicating that Worthey has purchased a home on her own in Dallas in November. She is said to have bought a home with five bedrooms not far from the home she shared with Aikman in Highland Park.
The official divorce papers have yet to be filed by the couple.
While it seems the two have decided to separate, all signs point to the two remaining close in order to raise their children.
Worthey's purchasing of a home so close to the one she shared with Aikman suggests that she has no interest of uprooting their children from their hometown and keeping them away from Aikman. This also suggests that the choice to separate was an amicable decision and not one that is the result of an ugly relationship.
Aikman is still scheduled to work the February 6th Super Bowl between the Pittsburgh Steelers and the Green Bay Packers. It is not expected that Aikman will pull out of the broadcast.