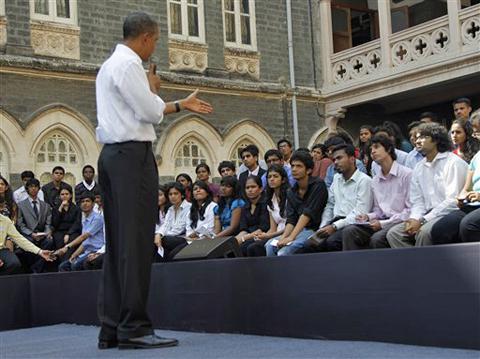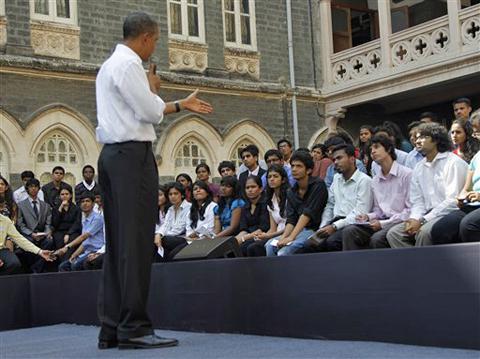 San Francisco (Obama.net)- On his third day in India, President Barack Obama stopped in New Delhi to make a major announcement in front of parliament. On what was also his third day of a ten-day tour of Asia, President Obama spoke on India's hope to become a member of the United Nations Security Council.
Obama said that he, as well as his administration, support India's hope to join the five winners of World War II on the Council.
Obama said, "In the years ahead, I look forward to a reformed U.N. Security Council that includes India as a permanent member."
India would join the United States, England, Russia, China, and France if it becomes a permanent member.
The President of the United States also addressed his hopes for more ties between America and India. Obama commented on his desire to see more economic and security partnerships between the two nations.
In an unfortunate turn of events, Pakistan's Foreign Ministry immediately talked down the plans. A statement from Pakistan's government said, "India's aspirations for recognition as a global power notwithstanding, there are reasons enough to discredit this propose direction of the process of UNSC (United Nations Security Council) reforms."
The Foreign Ministry said that the way India conducts itself with neighboring states, such as Pakistan, should be reason enough to discount India's hope to gain a permanent seat on the Council.
The United States quickly responded as the White House released a statement saying that the government views India as a fast rising power in the international community, regardless of Pakistani claims.
It has yet to be determined when the talks to get India into the Security Council will begin.
Many fear that any effort put towards getting India a permanent seat will be fruitless. The United States has previously helped Brazil, Japan, and Germany in their quests to attain a seat, but no success was realized.
India's Prime Minister Manmohan Singh is making a strong case for his country though. He has been promoting India's message to "tackle nuclear terrorism" and India's motion "to lead global efforts for nonproliferation and universal and nondiscriminatory global nuclear disarmament."
With Pakistan adamant that India should not be added to the Council and the United States asserting that they should be included, it will be interesting to see how the rest of the international community as well as the other four members of the Security Council respond.