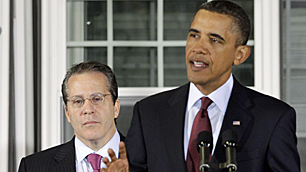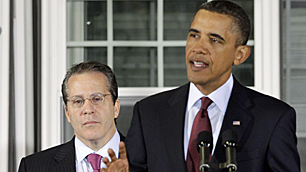 San Francisco (Obama.net)- Ever since he first came into office nearly two years ago, the chief concern of President Barack Obama was to resurrect the American economy, which had crumbled towards the end of the Presidency of George W. Bush. Obama inherited an economy that was on a fast downward spiral that would require a high amount of attention and tending to.
President Obama spent the last two years making legislature and working with Congress to improve the economy via job growth, job creation, increasing exports, and improving assistance to the small businesses of the United States, which Obama dubbed the backbone of the American economy.
While the economy is not exactly completely fixed, it is well on its way. When Obama took the challenge of restoring the American economy, he knew it would take years and the progress has been good, but even Obama wants to increase the pace of progression.
In an attempt to improve the situation, President Obama is shaking up his economic staff.
Obama is bringing in new members to his economic team to try to continue the progressions in the economy and to further improve the unemployment rate.
In December, 103,000 new jobs were created with the unemployment rate falling to 9.4% from 9.8% in November. Obama said, "The trend is clear. The pace of hiring is beginning to pick up. We've got a big hole that we're digging ourselves out of," but the message is clear that we are slowly, but surely getting out of that economic hole.
To continue the trend, Obama has enlisted Gene Sperling to be the National Economic Council's new director. Sperling was previously with the United States Treasury. He served as counselor to Timothy Geithner, the Secretary of the Treasury. He also held the director position in the National Economic Council under former President Bill Clinton.
Sperling has already assisted the American economy in a big way as playing a major role in negotiating the tax cut deal in December that extended the Bush era tax cuts, unemployment benefits, and other tax breaks for students and the payroll tax.
Obama is also bringing in Bill Daley as his Chief of Staff. Daley was the Commerce Secretary under Bill Clinton.
Jason Furman, who was already in the National Economic Council, is moving up in rank in the Council as he will now be the deputy director and Obama's assistant in terms of the economic policy.
Katharine Abraham has been named to the Council of Economic Advisers as well.
With the recent changes, Obama is hoping to speed up the progress that is already taking place in the United States economy.