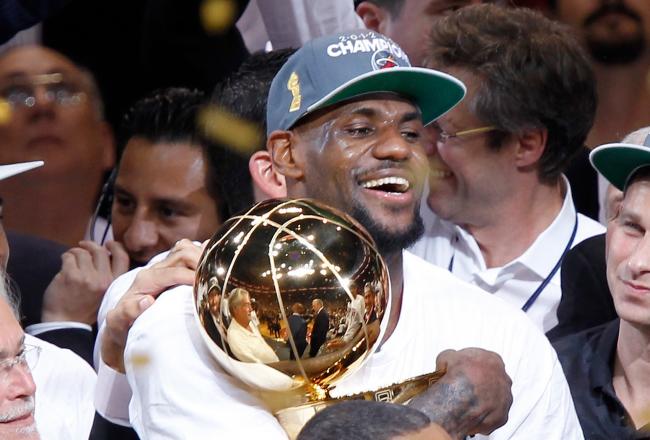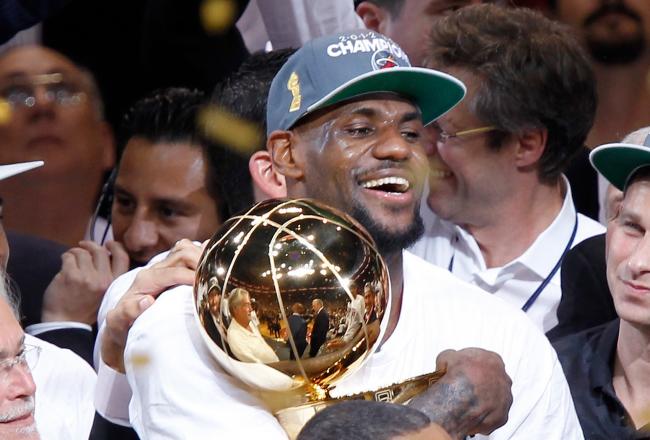 If you're hearing this for the first time, congratulations for waking up from your coma, but LeBron James has won his first NBA Championship. After a very up and down 2012 playoffs, James and the rest of the Miami Heat began firing on all cylinders to win four straight games in the NBA Finals to defeat Kevin Durant and the Oklahoma City Thunder 4-1.
Despite his 3 MVP Awards, 8 All Star Game appearances, 6 All NBA First Team selections, 4 All Defensive First Team selections, and arguably being one of the top 10 players of all time already in terms of talent, James was still haunted by the fact that at age 27, he had zero NBA Titles.
But now there is no more weight on LeBron's shoulder. After a controversial exit from Cleveland and a braggadocios entrance into Miami, James became one of the most polarizing men in the United States.
Now that King James has finally ascended to the top of the NBA and shook off the stigma of being the best player ever without a title, James is now climbing the ladder to become the best ever.
The fight for the title
LeBron's exit from Cleveland cost him more fans in the span of minutes than any other athlete has lost in nearly the same time frame. Did he deserve it? Not at all.
Let's examine it from an objective, unemotional viewpoint. Think of LeBron as a lawyer. The lawyer is arguably the best in the world and only getting better and is with a firm for 7 years. The firm is not only in an unattractive location (let's be honest, you're not planning a vacation to Cleveland any time soon) but the firm also has terrible management. The lawyer is carrying the firm all by himself and management is failing miserably to bring in other lawyers to carry the load and improve the firm. At best, the firm has brought in young lawyers who are barely qualified to be paralegals and old lawyers who are well past their prime. What's so bad about this lawyer leaving for a better firm where he will be joined by other top lawyers instead of carrying his firm by himself for the rest of his career after learning that it's all up to him and he won't be getting much help?
Miami
So the entrance to Miami was a bit much. "Not one, not two, not three…" may not have been the best thing to say, but it was a pep rally to excite the Miami fans.
Losing last year might have been best for LeBron in the long run. Millions of fans lacking perspective have hated James since leaving Cleveland, just imagine the jealously and anger towards him if he won last year.
James losing last year allowed him the opportunity to redeem himself this year. It turned him into an underdog and allowed him to rise up. Now James has earned the respect of fans and is now a confident man.
Is he the best ever?
The question alone causes fans to argue names like Wilt, Russell, Jordan, Kobe, Bird, and Magic.
Despite the dominance of Wilt and Russell, in terms of all around ability and what they've done, James is better than both. He simply has the ability to do much more on the court than they can and he does.
Kobe might have 5 titles, but let's be honest, the first 3 were because of Shaq. Kobe was the number 2 man on those first three title winning teams. And if Kobe had stayed in Charlotte for his first seven years (they drafted him) like LeBron did in Cleveland, do you really think Kobe would be considered so great? My math might be off, but the Hornets have a total of zero NBA Finals appearances by my count.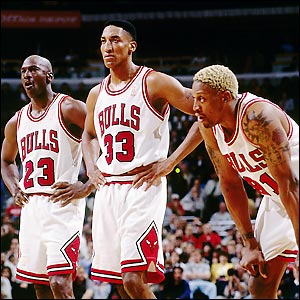 Jordan likes to criticize the Heat. He claimed that unlike LeBron, he would not have combined forces with Magic or Bird. Magic and Bird, along with Jordan, were the top three players of the 80's and 90's. Are Wade and Bosh equally as talented as Magic and Bird? Is Jordan saying that Wade and Bosh are better than Durant, Kobe, Dwight, Melo, Westbrook, Rondo, Duncan, and everyone else not named LeBron? Is Jordan saying Nate Archibald, Kevin McHale, Dennis Johnson and Robert Parish were no good and it was all Bird? Is Jordan saying Kareem and James Worthy were no good and it was all Magic? Is Jordan dare saying that he did it all by himself DESPITE having Pippen and Rodman with him?
Jordan couldn't win more than 1 playoff game until Pippen came around. James took the CLEVELAND CAVALIERS to the NBA Finals. Don't be surprised if in 10-20 years, kids will be drinking Gatorade and wearing Nikes singing, "I wanna be like LeBron!"
But at the end of the day, LeBron isn't the next Magic, he isn't the next Jordan, he's the first LeBron.