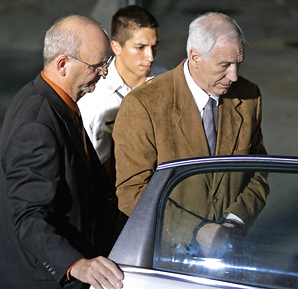 There are some crimes in this world that are completely inexcusable. One of those is the abuse of a child. Jerry Sandusky was accused and ruled guilty of sexually abusing and molesting young boys. No reason in the world could ever excuse such actions.
Sandusky was ruled guilty on 45 of 48 charges on Friday. Sandusky is guilty of abusing at least 10 young boys over the courts of 15 years. The guilty verdict of 45 charges gives Sandusky the potential of getting anywhere from a minimum of 60 years in prison to a maximum of 442 years. It took the seven women and the five men in the jury just under 2 days to make their decision.
Being that he is 68 years old, any sentencing Sandusky gets is likely to mean that he will spend the rest of his life in prison. And the fact that child abusers are the least respected criminals in prison, it is very likely Sandusky will be a target in prison and might be killed very early into his prison term.
Sandusky and his legal team are looking at their options for an appeal, but the evidence is so damning and Sandusky's own words aren't helping him. Even if an appeal is entered, Sandusky is not likely to reach a different outcome.
A legacy destroyed
Once upon a time Jerry Sandusky was one of the best defensive coaches in the NCAA. He worked under one of the best coaches of all time Joe Paterno for the Penn State Nittany Lions. Sandusky was widely accepted to be the next in line to take over for Joe Pa when the legendary coached decided to step down.
Joe Paterno's legacy is tainted, but not destroyed. At the end of the day he will still be remembered as a great coach and a leader of men. However, it won't be forgotten that he protected his friend Sandusky despite being told of what had occurred. Granted, it is possible that in his advanced age and his very protected environment, Paterno maybe did not understand the scope of the situation.
But Sandusky's legacy is forever tarnished. He is in a worse situation than OJ Simpson and Chris Benoit. Simpson defenders can always point to the glove not fitting. They can also claim that Simpson's murders were in the heat of the moment and not who he truly was. The same goes for Benoit. In 50 years, NFL Films will still show footage of Simpson and mention his name in their discussion of the best all time running backs. In 50 years, Benoit will be on DVD collections and his name will resurface in historical mentions. Neither man will be celebrated, but both will have their professional legacies praised to an extent.
Sandusky has no excuse. Child abuse for 15 years cannot be excused as heat of the moment or an isolated mistake. 50 years from now he will be remembered as a monster who ruined the lives of over 10 children and their families. He has cost the legacy of Joe Paterno. He has turned Penn State from one of the most respected schools and football programs in the country into one with great stigma and scrutiny. Few, if any, are rushing to the defense of Sandusky.
Guilty
After ruining the lives of 10 (possibly more) children, Sandusky has finally paid the ultimate price of his own life. Sandusky took the guilty verdict without showing emotion. It was as if the former future head coach of Penn State knew exactly what was coming and had come to terms with the fact that he deserved the verdict. He did not testify in his own defense.
If there are any complaints among the people of the United States this week, it is why was he not guilty on 3 of the 48 charges?
Now Sandusky is sitting in the Centre County Correctional facility. The prison holds just 272 criminals. He was given a small number of personal items he could bring. He gets to shower daily and receive visitors like his legal team, family, and friends. He is currently reported to be on suicide watch.