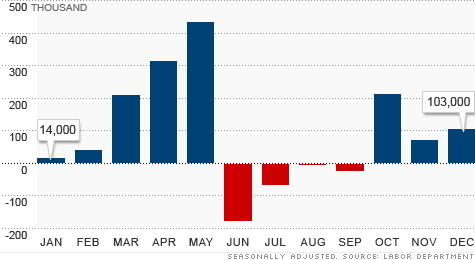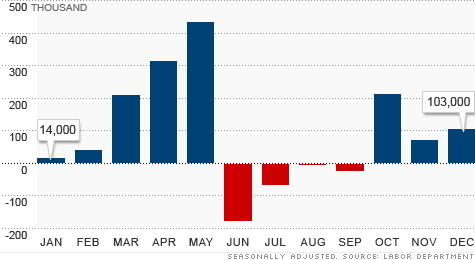 San Francisco (Obama.net)- In December, only 103,000 new jobs were created. The total is far less than the United States Labor Department was hoping for. Most had predicted that an approximate 150,000 new jobs would be created in December. Part of the lower results can be accounted for by the fact that the government cut ten thousand jobs in December. However, a positive note did come out of the last month of the year 2010.
The unemployment rate as a whole for the nation fell to 9.4% after sitting at 9.6% or higher for all of 2010. The rate is the lowest one reported since May of 2009.
There was no clear explanation how the rate could drop so much with the small rise in jobs. Experts are predicting that the reason behind the drop has more to do with Americans dropping out of the workforce and ending their searches for new employment rather than an actual growth of the job market.
Wells Fargo's John Silva said of the new numbers," A lower unemployment rate is a mixed blessing. Yes we are getting more people employed, but we appear to be losing people into the woodwork: not a good sign long term."
The November unemployment rate was reported at 9.8%, which led most to predict that the December rate would drop, but only to 9.7%. The new number of 9.4% is providing economists with a cause for concern more than it is giving them joy.
Approximately 1.3 million Americans are no longer being tracked by the Labor Department for unemployment rates as they have left the job market. In December, an estimated 260,000 Americans left the work force, leaving the overall rate of Americans in the work force at a mere 64.3%. The working population is dropping when it should be rising in accordance to the population aging.
Overall, the last two months of the year did not deliver as the Labor Department had hoped. In the two months where the most holidays are held and most of the spending people do every year is done, the job growth and unemployment rate were affected the worst.
Another issue with the numbers is how the economy is affecting seasonal employee hiring. Stephen Bronars of Welch Consulting said, "What we're using is patterns from previous years to adjust this year's numbers, and in a dynamic economy that is not going to always work."
With the economy the way it is, the amount of seasonal hiring cannot be as accurately predicted and thus accounted for as in years where the economy is good or at least average.