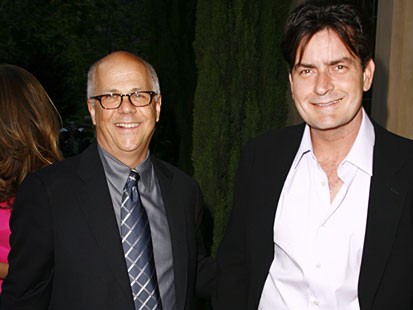 It appears that Charlie Sheen's publicist, Stan Rosenfeld, has had enough of the actor's bizarre behavior and has quit his job. While the embattled actor has had a tumultuous few months, the final straw for Rosenfeld seemed to come from Sheen's latest appearance on the Today Show and brief appearance on TMZ. In that appearance Sheen vowed to battle CBS about the postponement of his hit TV show, "Two and a Half Men," and actually went as far as demanding a raise.
Sheen did not take kindly to the news that his long time publicist had quit on him saying, "P**sy. He's not allowed to quit, so you're fired." In the past Sheen had commended Rosenfeld for his efforts on trying to keep his substance abuse problems under wraps. Back in November, Sheen had actually credited Rosenfeld for doing his best when he said Sheen was taken to the hospital with an "allergic reaction" when the real reason was because the police threatened to take him to jail if he did not cooperate.
This announcement of Rosenfeld's resignation was probably a process that was set in motion over the past few months and weeks. Sheen has recently found himself in the news quite frequently with his outlandish remarks about living a rock star life, feuding with CBS producers, and numerous run ins with drugs and porn stars. It was probably only a matter of time before Rosenfeld handed in his resignation anyways.