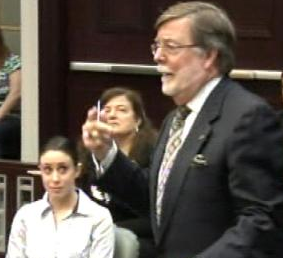 One of the attorney's representing Casey Anthony in her trial for her freedom, Cheney Mason, has reportedly been the recipient of numerous death threats.
Tuesday Night, Mason's wife dialed 911 sounding terrified and reported the claims to officials.
Sounding as if she was nearly in tears, Mason told the police officers what the messages said. One of the messages left on the family phone voice mail said, "Your scumbag husband and Baez better sleep with one eye open."
As a result, police security has been sent to the Mason home to protect the lawyer and his wife from angry civilians who are furious with the Casey Anthony not guilty verdict.
Police officers are will be coming by the home multiple times everyday to make sure all is well.
Furthermore, work is being done to track down the individuals who have made the aggressive phone calls and are threatening the lives of Cheney Mason and Jose Baez.
While the whereabouts of Casey Anthony are not known, the lives of the few people who helped to defend her over the last few years are now in danger.
View Casey Anthony Photos