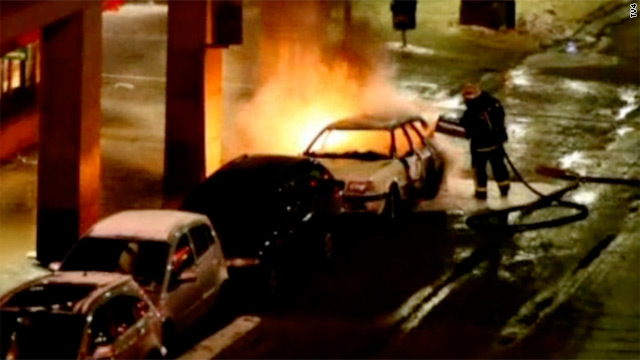 San Francisco (Obama.net)- With rumors circulating around for the past few months that al Qaeda and other terrorist organizations are targeting various European nations for attacks in the coming months, all of the citizens in Europe are keeping their eyes open.
Saturday, it was not too difficult to see that an attack on Europe quite possibly had taken place.
There were two distinct explosions in Stockholm on Saturday, which are potentially connected to email messages that talk about links to Afghanistan and were of a threatening nature. The emails threatened the lives of the Swedish and were sent just ten minutes prior to when the explosions went off.
The attack took place in a highly populated sector of the city where many were doing their holiday shopping. While, one person were killed because of the attack and two more were hurt, the potential for the damage the explosions could have caused was much higher. As Carl Bildt, the Foreign Minister of Sweden said, the incident "could have been truly catastrophic."
Police forces in Sweden said that other than the emails, which came just moments before the incident, there was no warning that the attacks were coming. In addition, no immediate plans to raise the terror threat in the state are being made.
The emails spoke of the Swedish presence in Afghanistan and of a cartoon by Lars Vilks that portrays the prophet Mohammad in the form of a dog. Furthermore, the email, which was in the form of text and audio files said, "Now your children, daughters, and sisters will die like out brothers and sisters and children are dying. Our actions will speak for themselves. As long as you don't end your war against Islam and the humiliation against the prophet and with your stupid support to Lars Vilks the pig."
The explosions took place just five minutes apart.
The first explosion took the form of a car blasting repeatedly at a busy Stockholm intersection. The second explosion also took place at a busy intersection, but the reason for it has yet to be determined. The second blast was also the one where the one dead person was found.
The two explosions did not cause significant damage, but certainly had the potential to.
More attacks are feared by Swedish authorities as the email also suggested a full attack take place "in Europe and Sweden," and the email called for the terrorists to "fear no one, fear not prison, fear not death."