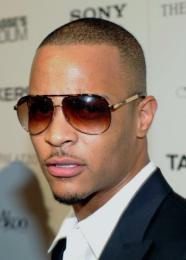 The Hip Hop Industry has been known for many things over the last two decades. Unfortunately for those involved, much of the media attention given to the rappers is negative. The world of hip hop is known to involve violence, sex, drugs, murders, gangs, and scandal.
Due to those elements of the industry, it is never unusual to hear about a rapper being sent to jail. From Tupac Shakur to Curtis "50 Cent" Jackson to Lil Wayne, it seems that all of the stars of hip hop at one point or another have their problems with the law.
And rapper Clifford Harris, better known to his fans as T.I., is no exception. Having been arrested dozens of times in his life, the 29 year old just recently spent seven months in jail for illegally purchasing silencers and machine guns and is still on probation from the charges.
To add to his troubles, Wednesday night, T.I. and his wife Tameka "Tiny" Cottle were arrested on drug charges.
After being stopped by police for violating a traffic law in Los Angeles, CA, T.I. and his wife were arrested after marijuana was detected in the vehicle and upon further inspection, other controlled substances were found.
The two were released on $10,000 bail early Thursday morning. The next court date for the case is this Friday.
In the hours following the release, Tiny said, making the most out of the allotted 140 characters, to her and her husband's fans on Twitter, "Jus wanted 2say thank u 2every1 dats been leaving encouraging msgs & prayers! We love u guys:-)going 2bed now! So glad 2b n a nice clean bed."
If the charges against T.I. turn out to be a violation of his probation, the three-time Grammy Award winner could be sent immediately back to prison after only being released this past December.
The news comes as another sad, but not surprising blow to the hip hop industry as one of its top stars has once again broken the law and is now in position to serve more jail time.