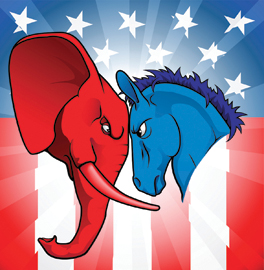 Going into the 2012 elections, we have a few different potential outcomes. The first of which is Democratic success.
The first point of contention is the Presidency. Barack Obama is going to look to retain his seat at as the Head of State over Republican challenger Mitt Romney. For Democratic control to occur, Obama would need to win the election.
In terms of the House of Representatives, all 435 Congressional District seats will be up for grabs. First, 23 Democrats are retiring from their seats and 18 Republicans are stepping down. Incumbents tend to have an advantage so those 41 seats are the most likely to see a change in party control. Currently the Republicans control the House, but Democrats can easily win enough seats to take over the majority. (218 needed for majority)
In the Senate, the Democrats lead by 6 seats with 53, but in November there will be 23 Democratic seats (2 Independents who typically caucus with the Democratic Party) and 10 Republican seats up for grabs. This might lead to a Republican take over of the Senate, but if Democrats can win by a landslide and get to 60 seats, then the Democrats will have dominance.
Essentially all Democratic legislation could be passed easily and Obama could finally enact the bills he proposes how he wants to instead of having to scale them down dramatically to appeal to a few moderate Republicans.
This is what needs to happen if we are to see what Obama truly has to offer the United States. In an era of low bipartisan support, Obama needs total Democratic dominance in Congress to push forth the best possible legislation for the nation.