One thing that helps voters decide who to give their support to every election is whether or not the candidate is someone who the voter would hang out with. Whether or not a voter finds the personality and lifestyle of a candidate likeable does in fact play a significant role in how Americans see candidates.
Quite simply, if you do not like a person, chances are you would not vote for them to be in a powerful role such as President of the country you live in. This is one of the reasons why President George W. Bush was elected over former Vice President Al Gore. Despite his questionable actions and decisions during his tenure as Head of State, the guy is easy going and has a friendly personality that, when separated from his politics, people like.
Personality might not play as big a role in elections as the economy, party identification, and track record do, but it does matter. And in November, people will look at Barack Obama and Mitt Romney and deem one to be more relatable as a person.
Romney's wealth could hurt him
It comes as no secret that Mitt Romney is a very wealthy man. How wealthy is he? Democrats want to know. President Barack Obama had no problem showing the world his taxes to bring up the point that taxes in this country are not fair as they are currently set up. Obama's point was that he had to pay less in taxes than his own housekeeper who made significantly less money in 2011.
Obama is a wealthy, upper class American citizen who is for the raising of tax rates for the upper class. But Mitt Romney is in the same class and wants to keep tax rates low for the upper class, essentially protecting his own wallet, which, unlike Obama, he does not want to show people.
Romney is said to have money overseas and to have bank accounts that are not disclosed. Romney claims that all of his finances are in order and everything is by the book. But skeptics still believe that Romney is hiding some shady business.
With reports that Romney has money stored away in Bermuda, Switzerland, and the Cayman Islands, the Democrats want Romney to come clean and show what he is currently hiding.
Is Romney out of touch with the common man?
The idea behind the assault on Romney is that he has nothing in common with the common man, or the middle class. Obama and his economics and background show that he has a better grasp on what the country is going through and the struggles of the middle class.
Estimates have Romney worth as much as $250 million. He is one of the wealthiest people in the United States if that is true. Most of his money has come from his personal investments in recent years. He also made money off of Bain Capital.
Those close to Romney say he will release the details of his tax papers for 2011 before Election Day.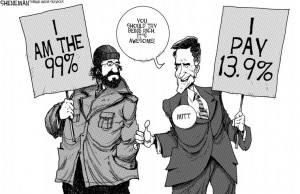 Will money hurt, not help Romney?
It is fair to say that few, if any, partisans will switch sides this November. With how different the two candidates are, it is highly unlikely any Republican will vote for Obama or any Democrat will vote for Romney. A few might be swayed due to an issue or two like same sex marriage, but for the most part the majority of Americans already know who they will vote for in four months.
The voters in the middle, the swing voters, might be affected by Romney's wealth. If you are a middle class American, would you vote for a guy worth a quarter of a billion dollars? Chances are you would think there is no way you have anything in common with such a wealthy man. Most likely, you would think a guy who is used to the good life and spending money like it does in fact grow on trees is incapable of making legislature that would benefit you.
The personality and lifestyle of Mitt Romney will not be enough on its own to cost Romney the election, but for some voters in the middle, it will be enough to cost Romney a nice chunk of votes.