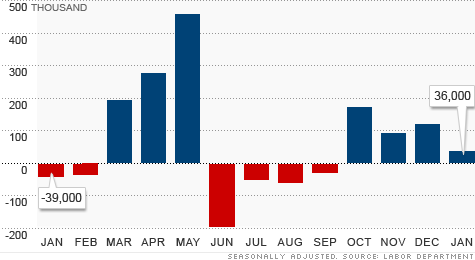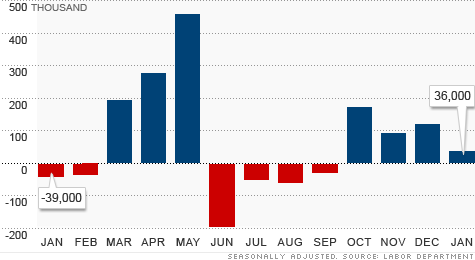 After ending 2010 with three straight months of job growth, totaling at six months out of the year where job growth was seen, the new year has not gotten off to as hot of a start as desired despite reporting good numbers.
In January, the United States saw 36,000 new jobs created.
Part of the reason that the numbers were lower than expected was the weather. With snowstorms ravaging numerous sectors of the nation, many companies were not able to expand as planned, projects were not able to get underway, and people were not able to travel outside to search for jobs as much.
John Silvia of Wells Fargo said, "It's a disappointing report, with a touch of skepticism because of the weather's impact on the overall number."
The Labor Department reported that between January 9th and January 15th, approximately 886,000 Americans were unable to go to work because of the weather.
John Canally of LPL Financial predicted that as many as 100,000 jobs were not created because companies could not afford to hire after the numerous snow days.
Tops economists in the nation predicted that 149,000 new jobs would be created in January. Obviously, the 36,000 figure falls far short of the hopes set out.
Another prediction gone wrong had to do with the unemployment rate.
Economists estimated that the unemployment rate would rise from 9.4% to 9.5% in the winter month. However, when the results came in, the rate actually fell to 9.0%. While incorrect with their prediction, economists are certainly not disappointed by the news, but they are, however, perplexed.
The reason for the confusion is that on average, 300,000 new jobs are needed to notably impact the unemployment rate, which was not the case in January.
The change in unemployment rates can be seen in a few different ways.
Some may choose to see it as a result of Americans dropping out of the workforce completely.
Others may choose to point the finger at the census, which changed the population count and thus led to an adjustment in the unemployment rate.
Economist Zach Pandl said that most of decline in the rate can be attributed to Americans finding work, which should be the focus of the report for January as he sees it.
While the growth may not be as fast as some people may want, it is undeniable that the jobs are being created and that Americans are getting back into the workforce. Slow and steady, but surely, the American economy is coming back.