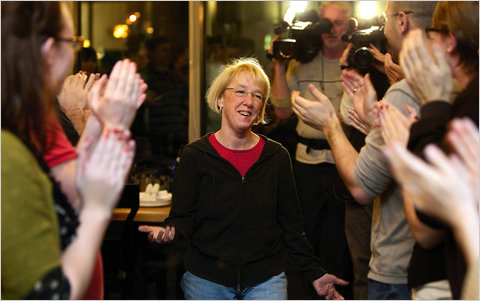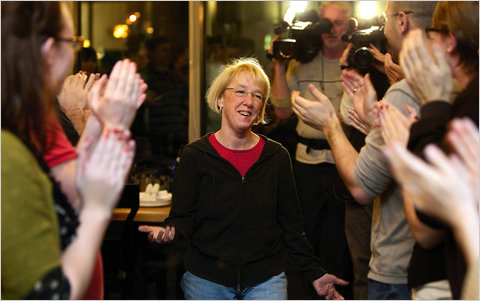 San Francisco (Obama.net)- While still a notable difference from the fifty-nine seats they held in the United States Senate prior to the 2010 Midterm Elections, the Democrats now have control of fifty-three seats.
Being the last state to have their race for the Senate seat determined, Washington made the results official late on Thursday.
Senator Patty Murray defeated Dino Rossi of the Republican Party by a slim margin. The now four time Senator of the state held a small lead on Thursday night before receiving a pleasant surprise.
Rossi conceded and thus Murray won reelection. Rossi also lost elections in both 2004 and 2008 for Governor of Washington. To his credit, Rossi was close in the race the entire time.
Rossi reportedly called Murray and congratulated her "on her reelection to the U.S. Senate." Murray in return thanked Rossi in front of a Seattle audience Thursday night.
Murray went on to tell the crowd that "I want to make sure Washington state has what it needs to get back on its feet."
She said her agenda will be to continue making new jobs in the state to help reduce the unemployment rate. Also, she said she is determined to get tax cuts for the middle class of her state and the United States. She said that at the top of her list is to make sure that the middle class is accounted for.
Murray said, "I have to really make sure that our families who are suffering so much, families who were dropped from health insurance companies are not put back in (that) same risk."
While the Democrats may have lost control of the House of Representatives and many Governor positions throughout the country, the majority in the Senate remains in tact.
President Obama has reacted positively to the news and even reached out to the Republicans saying he is willing to work cooperatively to keep America moving forward, there is no doubt that he is not pleased with the recent turn of events.
The struggle to pass Democratic legislature has grown immensely with the results of Tuesday. It has already been a challenge with Republican filibuster attempts and the lack of having 60 Senate seats. Now without a majority in the House and with only 53 seats in the Senate, the Republican's ability to blockade Obama's measures has grown significantly to the point where even the passage of basic bills could prove to be very challenging.