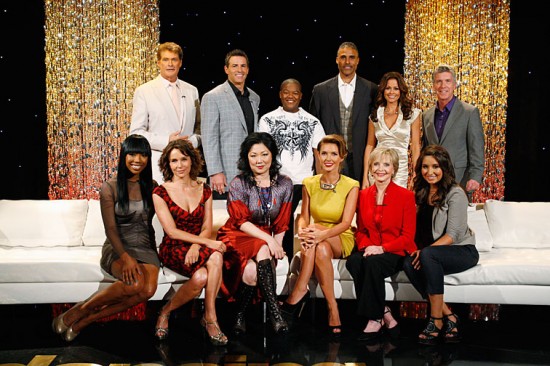 San Francisco (Obama.net)- Ever since the summer of 2005, the program called Dancing With The Stars, which is produced by the ABC, has been a ratings juggernaut. It allows audience members to see varying celebrities to be seen in lights that they have never prior been seen. It lets popular figures from all different aspects of American pop culture show off their dancing abilities and prove to their fans that they are not one trick ponies.
Former contestants include athletes such as Jerry Rice, Emmitt Smith, Apolo Anton Ohno, and Shawn Johnson. Also formerly on the show, entertainers such as Nicole Scherzinger, Lance Bass, Mario Lopez, and Kelly Monaco.
And just released was the cast for the new eleventh season of the popular television program.
Michael Bolton: The Grammy Award and American Music Award winner is best known for obviously, his music. Bolton is most popular for his song, "When A Man Loves A Woman." Bolton has been engaged to actress Nicollette Sheridan two times.
Margaret Cho: Cho, mainly known for her comedy and actins is also an author and uses her forms of art to express her political beliefs. Cho is a supporter of homosexual rights in the United States of America. She also openly supported Barack Obama in his campaign for President in 2008.
Rick Fox: Fox is a former North Carolina Tar Heel who went on to win three NBA Championships as part of the Los Angeles Lakers alongside Kobe Bryant and Shaquille O'Neal. He was married to Vanessa L. Williams.
Jennifer Grey: Grey is undoubtedly remembered best for her acting roles in the late 1980's. She had starring roles in the movies "Dirty Dancing" and "Ferris Bueller's Day Off."
David Hasselhoff: Hasselhoff has not had the best of media coverage lately, but no one can forget his roles in both "Knight Rider" and "Baywatch." He will clearly be doing all he can to make sure no one hassles the Hoff
Florence Henderson: Mom always said don't play ball in the house. But she didn't say anything about ballroom dancing. Henderson will try to translate her "Brady Bunch" talents to the dance floor.
Kyle Massey: The young Disney actor will take his talents to the Dancing With The Stars stage to see if he can expand his talents at this young stage in his career
Brandy Norwood: The woman formerly known as Moesha is known for her acting and singing. Already a talented dancer, we'll now see what Ray J's older sister and Snoop Dogg's first cousin can do in a ballroom setting.
Bristol Palin: The daughter of Sarah Palin enters the "Dancing" stage at the young age of 19. She caused a stir in 2008 when as her mother was running for Vice President, she became pregnant by her then boyfriend, Levi Johnston.
Audrina Patridge: The actress from "The Hills" will try her hand at dancing in an effort to add to her modeling success.
Mike "The Situation" Sorrentino: Oh no, we have a situation here. Mike "The Situation" from MTV's "Jersey Shore" will join the Dancing With The Stars cast this year. Love him or hate him, no one can argue with the success that "The Situation" has seen recently.
Kurt Warner: Arguably one of the best QB's to play in the NFL in the last twenty years, the two time NFL MVP and one time Super Bowl winner will follow in the footsteps of other NFL greats such as Rice and Smith and try to take on the challenge of ballroom dancing.