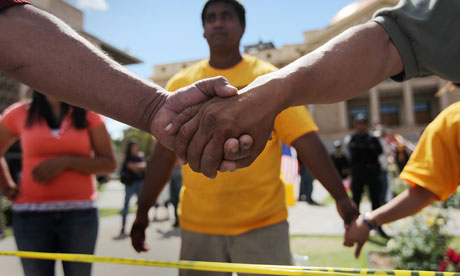 Most of the controversial parts of the Arizona immigration law were blocked by U.S. District Judge Susan Bolton today, giving a major victory to the opponents of the law.  The law will continue to take effect Thursday, but without the controversial sections requiring officers to check a person's immigration status.  Additionally sections requiring immigrants to carry their papers at all times and making it illegal for undocumented workers to solicit employment in public places were also placed on hold.
These parts of the law were put on hold so the courts could resolve these controversial issues further.  Protesters had planned large demonstrations speaking against the measure, and at least one group planned on blocking access to the federal offices.
With Arizona being the busiest illegal gateway into the country, Arizona lawyers contended the law was constitutionally sound.  Bolton, a Clinton appointee who became a crucial figure in this immigration debate when she was assigned the seven lawsuits filed against the controversial law, ruled that "there is a substantial likelihood that officers will wrongfully arrest legal resident aliens under the new (law)."  Bolton continued to state that "by enforcing this statute, Arizona would impose a 'distinct, unusual and extraordinary' burden on legal resident aliens that only the federal government has the authority to impose."
Opponents of the law argued it would lead to racial profiling, conflict with federal immigration law, and become a distraction for police to deal with more serious crimes.  Proponents of the law aimed to lessen border woes such as the heavy costs on education, jailing, and providing health care for illegal immigrants.
The immigration debate became a hot-button issue in the midterm elections when Republican Gov. Jan Brewer signed the law in April.  An unknown number of illegal immigrants have fled Arizona to other American states to avoid the new law.