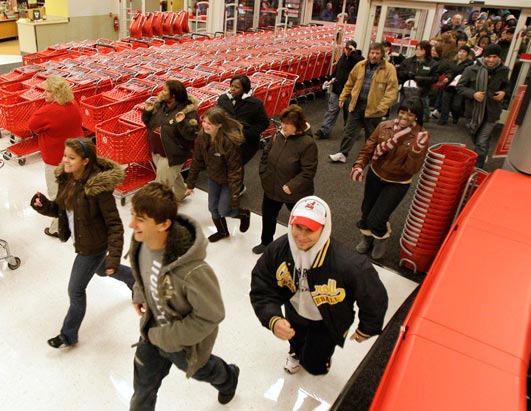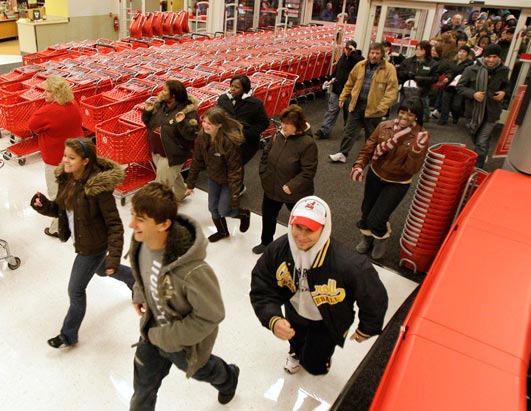 While many Americans have their eyes on Thursday and Thanksgiving, others are looking just one day further. Thanksgiving may be known as one of the most family oriented days of the years, but this Friday, known as Black Friday, is without a doubt the number one shopping day of the year.
Black Friday is the day of the year when all the sales for the holiday season start. And Black Friday is the day that has the best deals at the most popular stores. Stores will be opening earlier than normal, with some even opening at midnight.
Walmart Deals – One of the stores offering some of the hottest deals this year is Walmart. Music fans who are willing to wake up early enough will have a good chance to get their hands on an Apple iPod for just under $48. Movie and TV buffs will be able to get the best value for $399 ever in the form of a 42" RCA Plasma HDTV. And to go with that TV, shoppers can get a Wii, Wii Fit Plus, and Balance Board for just $249. Shoppers can also get their hands on other great deals in cameras, television, videogames, and other technological goods.
Best Buy Deals – Best Buy, an electronics powerhouse that delivers great deals every Black Friday, has numerous deals again this year. The best deal at Best Buy this year is the Samsung 58" Plasma HDTV for $1197.99.
Target Deals – Target is looking out the most for their customers. Not only is Target putting on a 4-day sale right before Black Friday with deals comparable to the ones they will have come Friday, but the department store is also allowing customers take advantage of the sales online in addition to in the stores.
Kmart Deals (Tip: Use code KMSANTA for free shipping) – Kmart is also treating their online customers. For Kmart shoppers, when spending over $60 for an online purchase, free shipping will be added. By simply using the code, KMSANTA, when purchasing online will get consumers the free shipping. Also, Kmart shoppers have the option of ordering online, then picking up their items the same day at their local Kmart.
Those only scratch the surface. The deals being offered this Friday are better than ever before. All the major stores will be offering prices so much lower than regular prices, it is almost as if stores like Best Buy and Walmart are giving away valuable products.