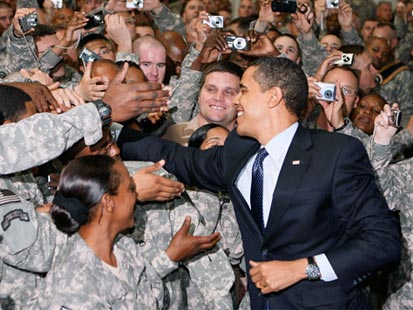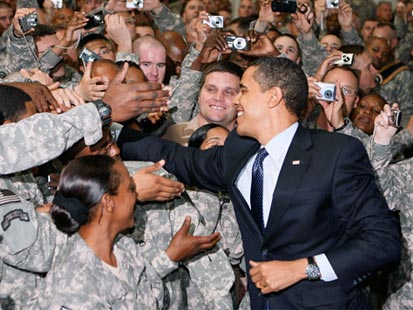 San Francisco (Obama.net)- At the beginning of his first term as the President of the United States of America, Barack Obama made one thing perfectly clear: by the end of August 2010, all combat would end in Iraq and the process of removing all troops would be well underway. Wednesday, a giant step was taken towards the deadline set by President Obama.
The final United States combat brigade in Iraq exited the Middle Eastern state. In what was Thursday morning in Iraq, the last of the 4th Stryker Brigade's 2nd Infantry Division went from Iraq, into Kuwait. The exit process saw a couple of hundred troops stay in Iraq to finish some work that had yet to be completed, but will be leaving Iraq later in the day.
Now, there are approximately 56,000 American troops in Iraq. Another six thousand are expected to be withdrawn in the coming days to bring the total down to Obama's plan of 50,000.
Operation New Dawn is set to begin on September 1st. On that day, after over seven years of the Iraq War, the American military will take a back seat and simply assist the Iraqi military and police forces.
In his trip to Ohio earlier in the day, President Obama said, "We're keeping the promise that we've made when I began my campaign for the presidency," and that by the send of August, "our combat mission will be over in Iraq."
Over 90,000 soldiers have withdrawn from Iraq in the last year and a half. And according to Obama's plan, every last soldier will be out of the state by the end of 2011.
The process of becoming self-sufficient is only just getting started for Iraq. The country's officials are just now gaining control of their own state and are beginning to assert themselves as the law.
With the support of President Barack Obama and the rest of the United States government, the country of Iraq is well on its way to being self-sufficient. Obama made it clear that the topic of Iraq is not going to stop being important to him and the United States government as he does his best to help the progression of the state.