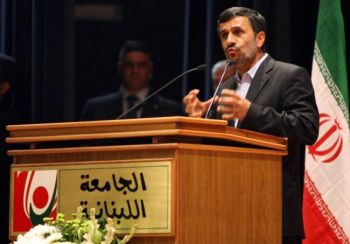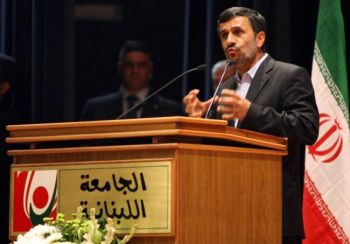 San Francisco (Obama.net)- Thursday, the President of Iran, Mahmoud Ahmadinejad, traveled to Beirut, Lebanon. While there, President Ahmadinejad spoke highly of the Lebanese state and spoke negatively of Israel. While there, he called for the eradication of the Jewish community.
Ahmadinejad in no uncertain terms said that the "world must know the Zionists are to be gone." He them praised the citizens of Bint Jbeil for making "the Zionists taste the bitter taste of defeat." He went on to say that the Jewish people must surrender "to the will of the people and to return to their first homes."
The Iranian leader continued praising Lebanon for battling Israel. The crowd responded positively by applauding the President heavily.
Ahmadinejad said that the Israeli's "must know Bint Jbeil is holding its head up and will stand until the end against enemies."
Men and women packed the speech location hours prior to the event, which quickly turned into a sea of people showcasing the flags of Lebanon and Iran. As one of the few world leaders that sides with Lebanon in their battle against Israel, Ahmadinejad is seen as a hero to the Lebanese.
Ahmadinejad and Iran gave Lebanon most of the aid they needed following the 2006 war with Israel to rebuild the state's infrastructure and buildings.
Security at the event was high. Military planes were flying over the stadium to ensure safety in the sky as other guards were on the ground.
Thursday also saw Ahmadinejad meet with Hassan Nasrallah, the Secretary General of Hezbollah. The meeting took place in Beirut's Iranian Embassy. It was reported that Nasrallah gave Ahmadinejad a weapon that was taken from a soldier from the Israel military.
Nasrallah also gave a speech in 2000 at the same location in Bint Jbeil to announce victory when the Israeli military left Lebanon.
Ahmadinejad also called out the United States and its allies on the wars in the Middle East. The Iranian President said, "What have the Western countries done in Afghanistan? Ask them where are those terrorists. Where in Afghanistan are they hiding? Everything has been ambiguous. But through propaganda and through the media, they have portrayed themselves as liberators."
At a time when the world has already begun to lose its patience with Iran and its leadership, Ahmadinejad has taken things another step too far. With the state already heavily isolated from most of the free world, with the recent comments calling for the end of the Jewish state, there is sure to be more anger towards Iran.